Discover more from Dev Shorts
A newsletter about developers and open source
Cyber Security during Wartime

Hello 👋🏽
Welcome to Dev Shorts. Issue #23 talks about the wake of the nation-state's cyber terrorism during the war, an OSS streaming platform, and a few upcoming developer conferences
Internet is more widely available now than in WWII. Everything that we do today is probably more available digitally than ever. In that course, nation-states have become vulnerable to cyberattacks.
Damage is inflicted on the enemy by blocking, hacking, and stealing digital entities' data. For example, say the enemy state disrupted the essential supply chain management systems or crippled the networks of burgeoning startups.
The country could be brought to heels without firing a single bullet. Several media outlets predicted that there would be more cyberattacks than physical confrontation from the Russian state during Jan-Feb. But, unfortunately, things took a different route!
I believe most cloud co's support and security teams were extremely busy & cautious during this time. If you still did not get what I'm talking about.
Do read about Russian state cyber attacks before and during the war!
Like I always say, Security is a mindset and not a checkbox. It is essential to build secure systems, more now than ever.
What I made this week?
There is a new Elasticsearch Java Client with several much-requested features that makes developers' life easier. And it is not limited to Java, Elastic has released similar server-independent Elasticsearch Clients for various languages. Learn more.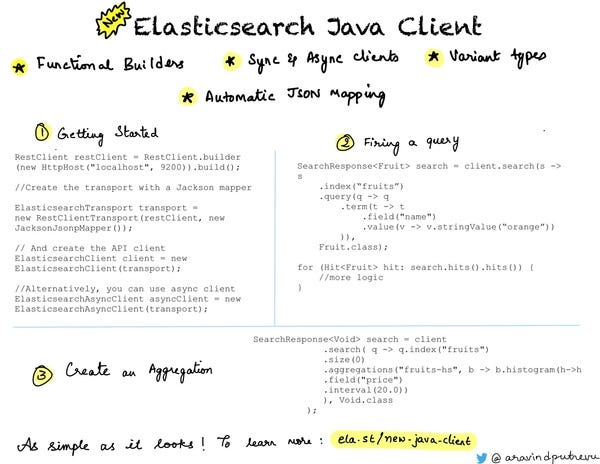 New Java Client
What I read this week?
In depth research and trends analyzed from 50+ different concepts as code
We all know "infrastructure as code". It is expanding to bigger constructs , devsecops, workflow , data , documentation, and slowly getting into the business domain. I analyzed the trends from over 50+ concepts "as code". Do tell me what I'm missing.
I tried Cron, a calendar management app, recently. That let me onto research on what others exist. I found this list interesting. BTW, I'm back to GCal after trying a couple of these 😅
🪦 RIP - Google Calendar (2006 - 2022)? Every knowledge worker on the planet uses at least two tools: email and calendar. Traditionally these spaces hav…
Open source projects
Redpanda is a streaming data platform for developers. Kafka API compatible, 10x faster, ZooKeeper free, JVM free!
Upcoming Developer Conferences
Many Kubernetes Community Days are just around the corner. You could participate, speak or help organize these community celebrations.
Check out CNCF KCD Bengaluru events, learn more or contact this organizer.
Check out CNCF KCD Chennai events, learn more or contact this organizer.
Check out CNCF KCD Berlin events, learn more or contact this organizer.
If you like this week's newsletter, rate it with "thumbs up/down."
If you're finding this newsletter valuable, consider sharing it with friends or subscribing if you haven't already.
Sincerely,
Aravind Putrevu 👋🏽
In order to unsubscribe, click here.
If you were forwarded this newsletter and you like it, you can subscribe here.
Created with Revue by Twitter.
Bengaluru 560102